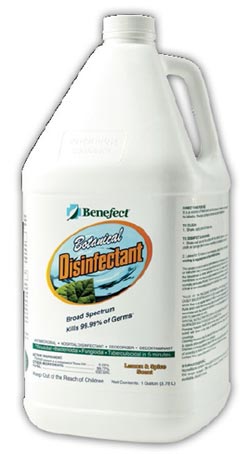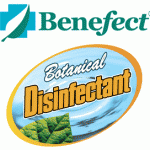 Benefect – Botanical Natural Disinfectant Cleaner
Intermediate-Level Disinfectant

Kills TB in 5 Minutes!

No Health Warnings, No Rinsing, No PPE

OSHA Compliant for BBP

Green Disinfectant – Safe and Environmentally Friendly Disinfection Spray
Botanical Technology
Have you ever worried about the antimicrobial products that you use? Sure they do the job but are they toxic? Are they suitable for use around children, pets, the chemically-sensitive or the elderly? Are they environmentally responsible & sustainable? Botanical products are the answer to all of these questions.
Benefect is  a  revolutionary  disinfection blend  of  these  antimicrobial  extracts, particularly from the herb Thyme. Traditional synthetic disinfectants use quaternary ammonia or chlorine to kill germs, however, using the essential oils from plants allows Benefect to achieve an unprecedented safety rating. To put it simply, Benefect is a 'plant immune system' in a bottle.
The World's Only Authentically Botanical Disinfectant
How Can a Disinfectant Be Less Toxic Than Vinegar And Still Kill Germs?
In  nature,  plants  produce  germ-killing  'essential  oils' to protect themselves from invading microbes, similar to how our bodies produce antibodies for our protection against  disease.
What does it mean to be an Authentically Botanical disinfectant? We use the essential oil of the thyme plant as our Active Ingredient, not a synthetic chemical substitute. Using real, food grade ingredients makes Benefect products a sustainable option for disinfecting and cleaning. This is the story of our ingredients…
Benefect Botanical Disinfectant:
Kills Over 99.99% of Germs
Virucidal (HIV-1) • Bactericidal (Including MRSA)
Fungicidal, Tuberculocidal
Made From Plant Extracts
Pleasant Aromatherapeutic Vapors
No Synthetic Fragrances, Dyes or Bleach
No Cautions/Warnings on The Label or MSDS Sheets
No Rinse or Wipe Required
No Mixing Required
Benefect surpasses the government's germ killing requirements for hospital disinfectants. The ingredients are categorized as GRAS (Generally Recognized as Safe) and as Direct Food Additives by the Food & Drug Administration (FDA).
Part Of Our Botanical Cleaning & Disinfection Solution
As a contractor or homeowner you know that Benefect has been reviewed for safety, efficacy & environmental impact by the Environmental Protection Agency (EPA) and therefore you can trust what the label says. Naturally, Benefect's botanical ingredients give it some distinct advantages.
No Rinse or Wipe Required
You can now use a product that doesn't require a rinse or wipe. This saves costly labor & time allowing you to do the job faster by saving a whole labor step & lets you move onto the next job faster. This saves you money. It is also suitable for use around children, pets, the elderly and chemically-sensitive individuals. So you can relax about chemical contamination, overspray & evacuating building occupants.
No Warning Labels or First Aid Statements
You can now use an alternative to chlorine, ammonia & oxidizers which isn't corrosive, flammable or reactive nor does it pose a public health risk. This means you don't need any Personal Protective Equipment (PPE) such as: rubber gloves, boots, aprons, respirators or face shields to protect yourself from the product.
Employers are liable for the health and safety of their employees. Using Benefectensures employers are providing their employees with the latest technology & the best choice for the job.
Would you buy 20 year old equipment? Why would you choose 20 year old disinfectant technology?
No Mixing
Ready-To-Use products dispense the correct concentration of disinfectant every time, right out of the bottle. With many concentrates, contractors need to make sure dilution rates, water hardness levels and water temperature are all correct to ensure that the disinfectant is mixed properly: too low & they may not kill effectively, too high & they may be an additional health risk. A ready-to-use formula ensures the product's proper germ killing ability on every job.

Applications:
Benefect is ideal for use in restoration sites: water damage, sewage back up, mould remediation, fire restoration and trauma scene decontamination. Effectively eliminates odours produced by odour-causing bacteria, fungi & other organisms on concrete, wood framing & studding, trim & subfloors.
"I've been using Benefect® for three years because Benefect® doesn't leave a toxic residue and it saves me labour and it reduces our liability because it doesn't require a rinse or wipe after the application when applied correctly."
"We used Atomic today and my staff love it…and it really works. I know that most adjusters will be interested and would love to have you speak to my staff. Great stuff!"
"I too would like to express our happiness with the Benefect® product, it is fantastic. We have found out it is great for organic odour control, especially urine. And for those that think it's too expensive compared to other biocides, drop me a line, I'll give you some info as to why it's cost effective. People love the stuff. It's definitely mandatory in our office. Thank you."
"This is a job that we did where there was a fire on a porch that got pretty hot. Got some before and after pictures of the brick wall that had a lot of dark smoky soot. We cleaned it only by spraying Atomic from the top down and let it rinse it self down. No scrubbing or brushes were used. Pretty cool huh!! We love this stuff. We also are batting a thousand with the disinfectant in clearance test for mold jobs."